How many Amazon boxes did you get last week?
Print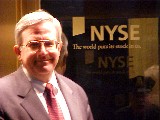 I think it was six, but I may have lost count. Amazon says they want to make the buying process "frictionless." In our house, following this metaphor I think we have moved well beyond "Mobile 1" and deeply into the "WD-40" area when it comes to purchasing on line. At least I have. Women largely favor shopping in person and my wife is no exception.

Frictionless shopping means boxes and this has not been lost on the corrugated box business or the concomitant mills that produce the paperboard needed to make the boxes. I don't know when I have heard so many announcements about rebuilds and rumors of new mills as I have this fall. I am sure it was well before the Internet, say, 1991 - 1992. And they are all linerboard and medium mills.

Yet if we had not moved from the old Rule 41 standards of box construction into strength standards, we would be building even more machines. Standard "sweet spot" basis weight has moved from the old reliable "42#" of a couple of decades ago to "35#" and lower today. This improves the MSF yield by 20%, thus reducing the number of machines required to keep up with the demand considerably.

Let's savor the good news.

Jim Thompson is CEO of Paperitalo Publications.

****

---